As tourists, we must be just as aware of the reality of our world and how important it is that our actions are as respectful as possible not only to the environment, but also to the local population of the destination we are visiting and its cultural and heritage resources, as their conservation and maintenance will depend on this so that we can continue to enjoy them in the future.
At Biosphere we are very aware of this and that is why, through our Biosphere Sustainable Lifestyle methodology, we manage to involve all stakeholders with a sustainable lifestyle; it is what we call the Biosphere circle, where the commitment of destinations to sustainability is also assumed by their companies and clients, tourists and citizens.
In this sense, if a hotel is already committed and committed to the cause, on the one hand, it will involve its customers and employees, informing them about the actions and measures taken to ensure its sustainability; and on the other hand, from the role of the customer-traveller, their responsibility and sustainable action will begin by complying with these measures and sharing the information with their environment so that they can also know how to act responsibly in their future visits.
Google Ecolabels
Now, thanks to Google's new functionality, "eco-labels", a tool that many are already talking about, hotels can share information about their good practices, including the option to publicise the environmental and ecological seals they hold, such as Green Key or ISO 14001, sustainability labels such as Earth Check, as well as certifications that accredit business alignment with the sustainability of the United Nations (Agenda 2030), with Biosphere being the only sustainability certification tool capable of addressing the 17 SDGs in a comprehensive manner.
All this information will appear in the Google Business Profile (formerly Google My Business), in the "Google Travel" section. Thus, when we search for a hotel from this section, we will see that those that have been recognised for their environmental and sustainable efforts will include the green label "Eco-certified" in their profile, accompanied by a leaf icon. Thus, by clicking on this label we will access all the information about the environmental and sustainable efforts that the hotel has included in its profile.
Steps to activate your eco-label on your Google profile:
First of all, in order to activate this icon on your profile, you must have a badge / certification that is recognised by Google. If you already have an accreditation from one of these certifiers, log in to Google and start reporting all the information about your sustainability efforts.
Go to your Google Business Profile
Select the "Information" tab and go to the "Hotel Attributes" field
Inside you will find the "Sustainability and Eco-certifications" section where you can communicate all your good practices.

What information does this tool allow you to share?
Within your Google business profile, you will be able to add information about your hotel in more than 15 different categories, starting with "Sustainability" and "Environmental certifications".
On the one hand, in the "Sustainability" category, you can indicate with a "Yes", "No" or "Other reason", those environmental and sustainable activities that are carried out in your hotel, among those proposed by Google in a predefined catalogue: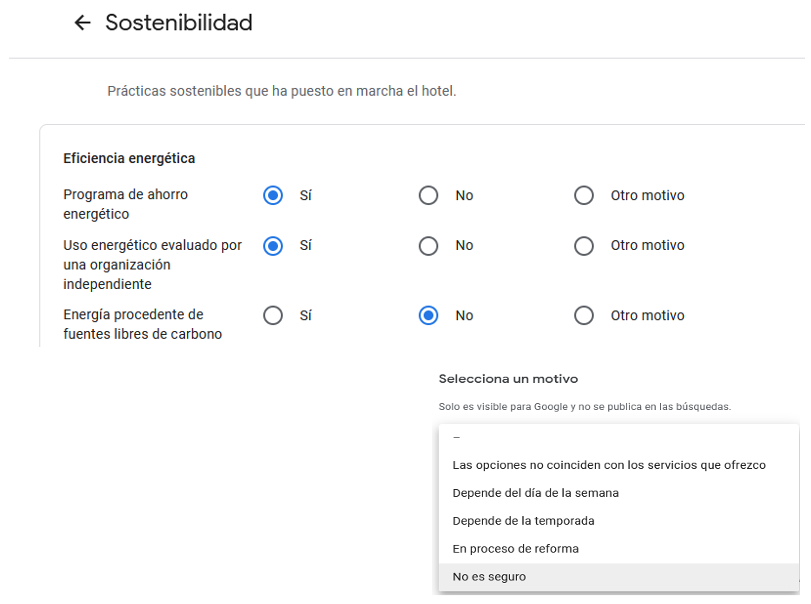 On the other hand, in the category "Environmental certifications", you will be able to select those labels that your hotel holds: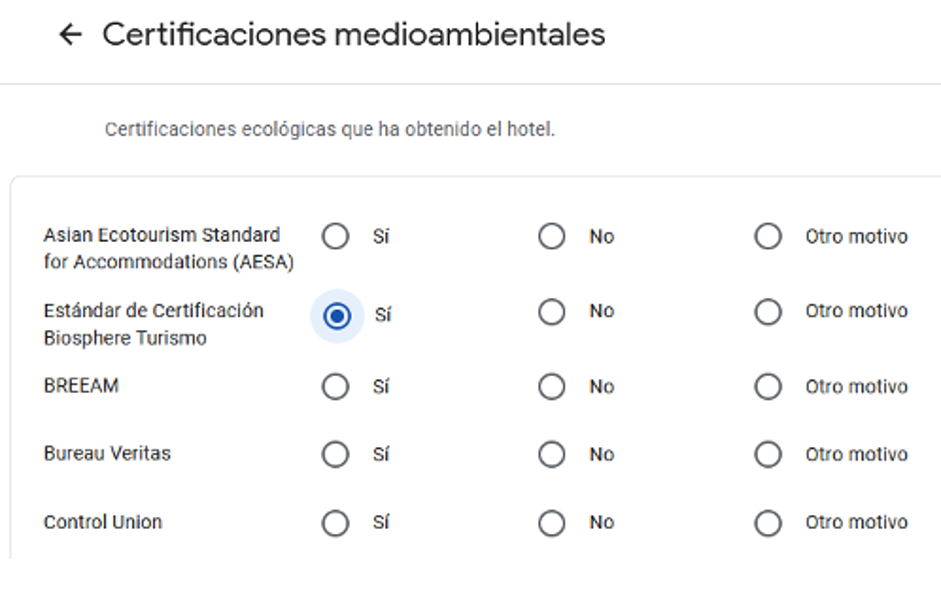 Remember that these changes are not automatically generated, so your "eco-label" will not appear until Google verifies and updates your profile information after a few days.
How will users searching for my hotel on Google see this information?
First of all, you have to take into account that this label only appears on your hotel profile if the user searches for it through the Google Travel search engine, once you have completed the necessary fields in your hotel's Google Business profile.
At that moment, the "eco-label" with the green leaf icon will appear below the hotel name and, by clicking on it, it will redirect the internet user to the tab with all the information that has been reported in the Google Business profile.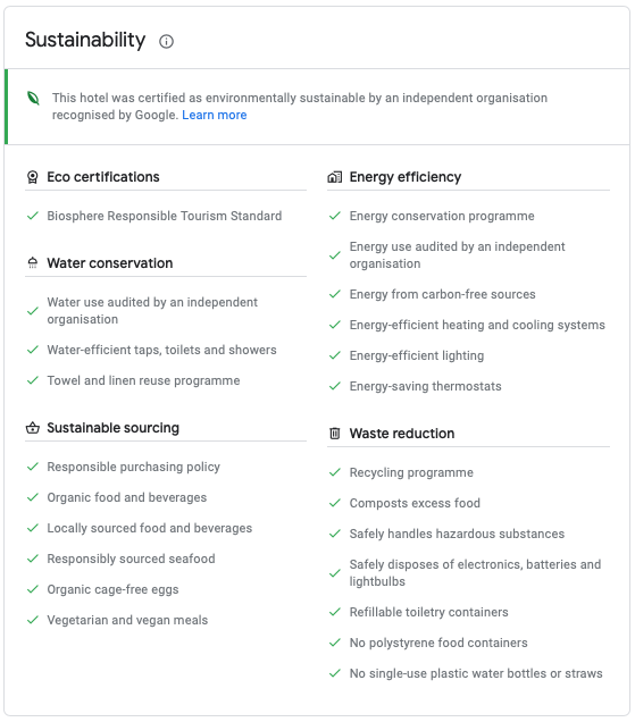 For now it seems that this "eco-label" cannot act as a new filter in the famous search engine, but it will probably have this functionality in the future.
Booking's eco-labels
Like Google, Booking has also wanted to join the sustainable trend that internet users are demonstrating with their demands and searches. For this reason, this giant in the world of online booking portals has also incorporated its own eco-label, which they have called "Travel Sustainable" by Booking. Thus, hotels that have a certification recognised by this portal will also be able to differentiate themselves with this label within Booking.
Steps to activate your eco-label in your Booking profile
Once you have logged in to your Booking account,
Go to the "Property" section.
Click on the "Facilities & services" menu.
In this section, you will see a drop-down menu with different activities under the categories "waste", "water reduction", "energy & emissions", "local community" and "environment". To make your good practices public, you only have to select "Yes" or "No" in each of the activities to report on the activities already carried out in your hotel.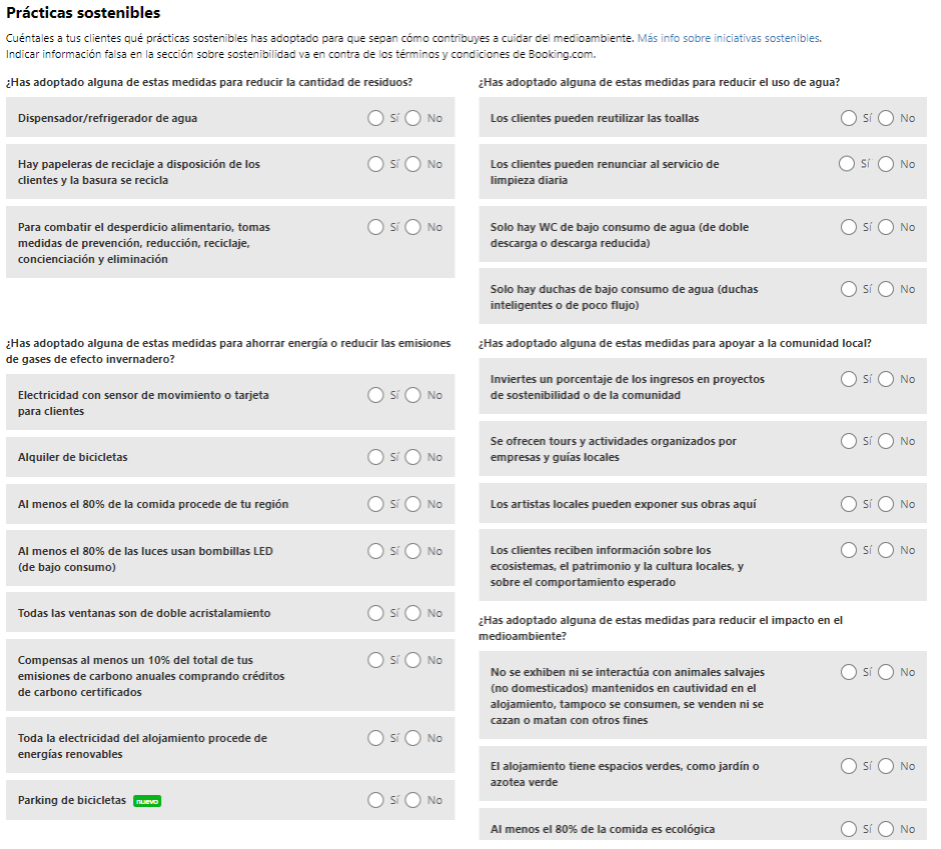 Don't forget to click "Save" to apply the changes to your Booking profile.
With regard to certifications and achievements in sustainability and environmental matters, unlike Google, Booking adds this information directly from the certifying organisations, who send a biannual report to Booking with the data of all those companies that have achieved their badges in that time.
From all this information, what is finally shown in the hotel's profile in Booking?
As Google does, Booking will identify those hotels that hold a sustainability and environmental label and that highlight their sustainable efforts by adding a leaf icon next to the label "Sustainable Travel Programme Accommodation" under the hotel's name.

With regard to the information you fill in from the "Facilities & services" field, it will only show those good practices that you have selected with a "Yes", as well as including the information of those certifications that your hotel holds and that the certifiers send directly to the booking portal.
In order for the internet user to see all this information, they must click on "Read more" in the Accommodation window of the Sustainable Travel programme, which will be included in your hotel profile.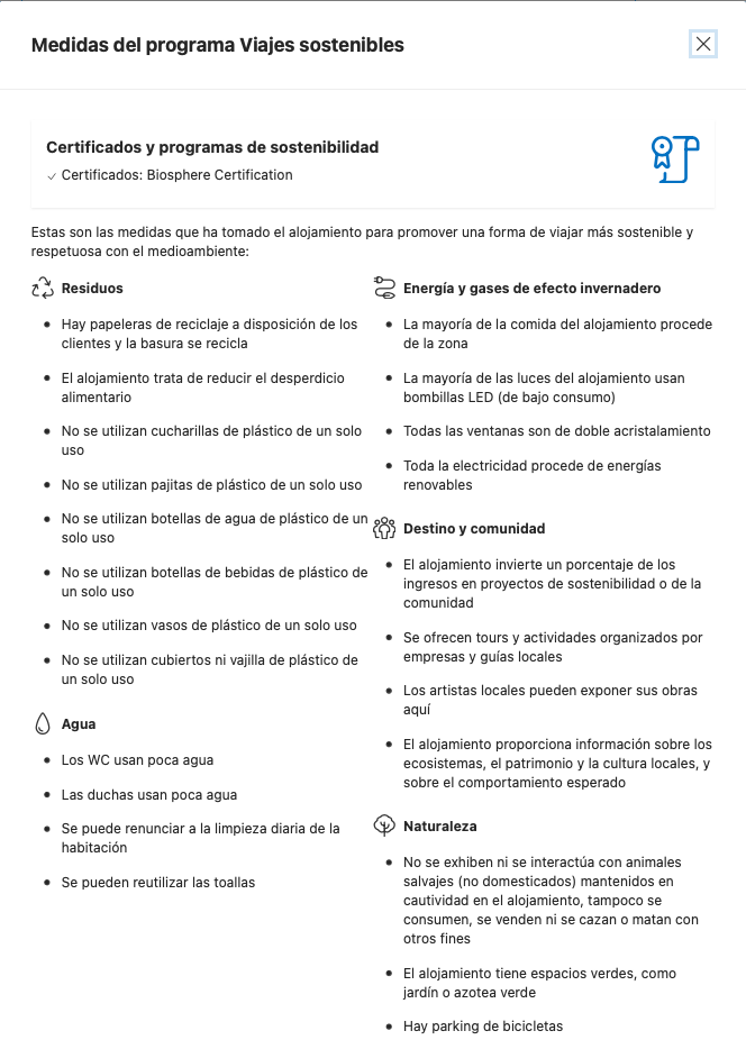 We hope this article-tutorial can help you in the communication and dissemination of your sustainable efforts. If you do not yet have a certification or recognition mark, don't wait any longer and start managing and highlighting your business sustainability!